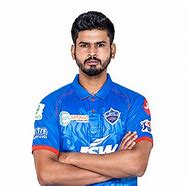 Shreyas Iyer, Cricketer, India
Shreyas Iyer is an Indian cricketer who represents the Indian national cricket team in limited-overs formats. He was born on December 6, 1994 in Mumbai, India.
Shreyas Iyer made his first-class debut for Mumbai in 2014 and quickly established himself as a consistent performer in domestic cricket. He was later selected for the Indian cricket team in 2017 and made his international debut in a T20 match against New Zealand.
Shreyas Iyer has been a regular member of the Indian middle-order in limited-overs cricket and is known for his technically sound batting and sharp fielding abilities. He was also a key member of the Indian team that won the 2019 ICC World Cup.
In addition to his international career, Shreyas Iyer also plays for Delhi Capitals in the Indian Premier League (IPL). He was named the captain of the team in 2018 and has since led the team to the playoffs in several seasons.
Off the field, Shreyas Iyer is known for his calm and composed personality and is widely regarded as one of the most promising young batsmen in Indian cricket. He is also involved in several charitable initiatives and is a role model for young aspiring cricketers.